The term Betlines refers to a classic way of determining a win in a slot game. When the same symbols appear (usually from left to right) in a pre-determined pattern, the player receives a win according to the betting table.
Betways allows the player win in any possible way, with 3 or more symbols in each column counting from left to right.
Clusterpays counts the symbols in a cluster, meaning if you have more than X symbols grouped together, this will generate a win. The minimum number of symbols and the win size is determined by the paytable.
You can find a description of all the special symbols in a game by looking at the game rules. On
NetEnt games
, you can easily find the rules by clicking the "i" button (shown here at the bottom-left of the image).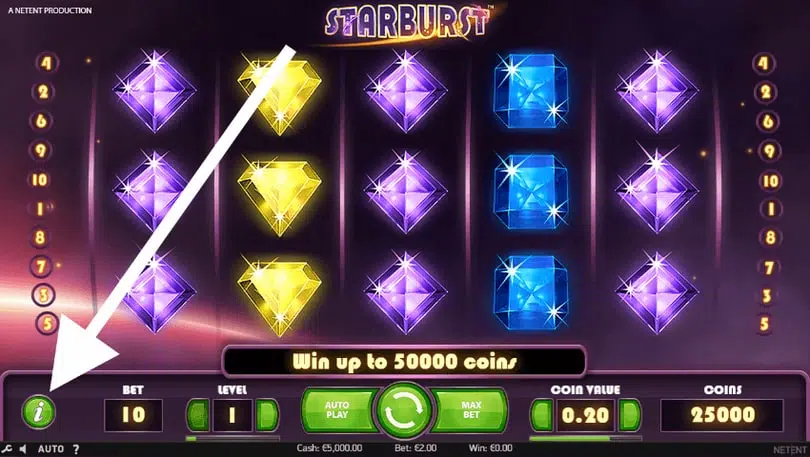 A Wild is a symbol that can be used as a substitute for any other symbol, like a joker in some traditional card games.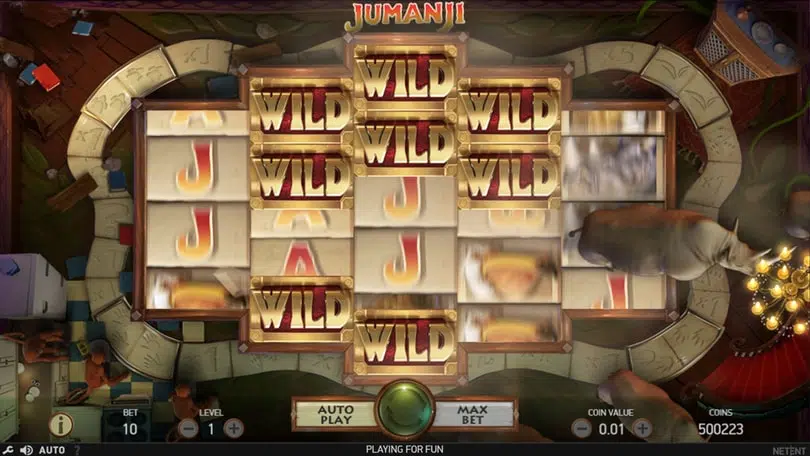 Example: Suppose we have a 3×3 slot with 5 betlines consisting of horizontal lines and diagonals. Here the player wins on 3 A's in a row: C D D A A A B B C But if the center symbol is a wild (W), then the wild acts as an A, and as a C, and they win on both the A's and the C's C D D A W A B B C
A Scatter is most often a symbol which is used to trigger a bonus game, for example free spins. Typically, landing 3 scatters anywhere on the reels will give you free spins.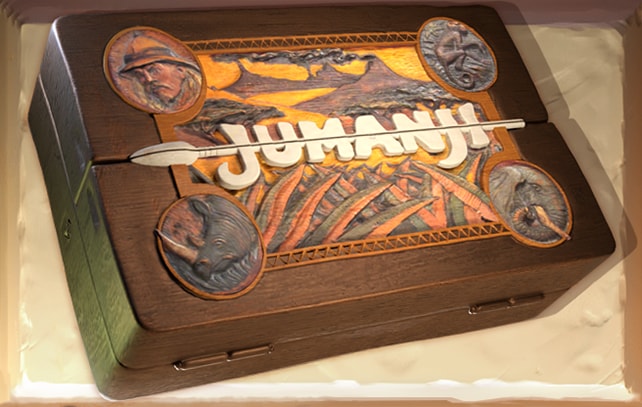 The variance of a game is a number which gets calculated using mathematical formulas. This number is a measure of how much a game varies in its game winnings. Games where you win often but with relatively small amounts have low variance, while games where you win less often but, when you do, with higher amounts have a higher variance.
Dead or Alive™
is an example of a high variance game, while
Butterfly Staxx™
is an example of a low variance game.
Volatility is similar to Variance. Low volatility means smaller but more frequent wins. Higher volatility means bigger wins, but they come less often.
TP, or Return to Player, refers to the measure of the percentage of stakes that is returned to the player (through wins). Usually, when we talk about the RTP of a game, we refer to the theoretical RTP: the average win over many game rounds divided by the bet. Most NetEnt games have a theoretical RTP of approximately 96%. But any time you sit down to play, there is an actual RTP: the total win of the session divided by the total bet of the session. For a short play session, this can be very far from the theoretical RTP value. For example, say you sit down and play with 100 euro, and in the end you leave the session with 70 euros – your actual RTP, in this case, is 70%. The important thing to remember when you see the listed RTP of a game is that this is the average RTP after a very long run of games, and is the not to be taken as the actual RTP.
No! You should never expect the actual RTP to be the same as the theoretical RTP. It could take 100,000,000 spins to get to the desired RTP range, and even then, there are no guarantees – slots are a game of chance and this should always be remembered.
Not for NetEnt games. Our games are only certified at the RTP that is stated in the game rules.
Yes, they are the exact same games. For example, on games.netent.com, you can try all NetEnt games for free. This gives players a good chance to get a sense of the gameplay before playing for real money. In many countries, it is required by law that all free games are the same as "for money" games. NetEnt ensures that this is always the case.
A
progressive jackpot
is a jackpot that grows with every round that is played on the game, until it pays out. You can think of it as a community of people all playing together, and every round anyone plays on the game causes the overall jackpot to grow and grow until one lucky winner gets the prize.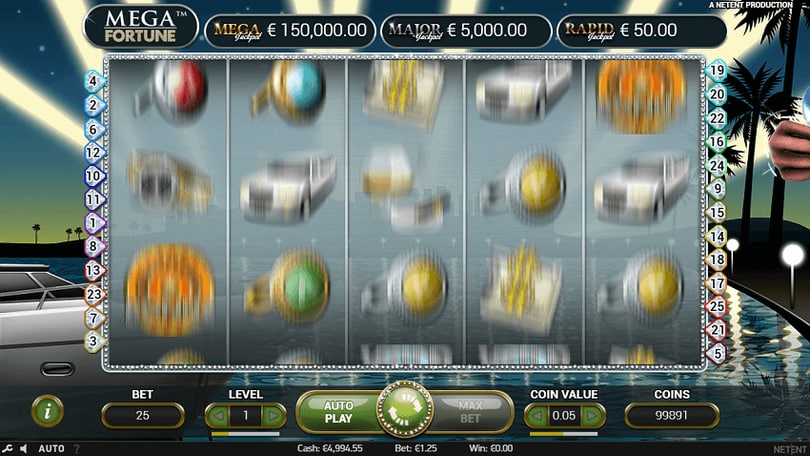 No. Slot games have no skill or strategy element whatsoever. Since the games are pure luck, the only possible "strategy" is the following: if you get lucky, quit while you are ahead. Apart from that, there is no way to increase your luck.
No. Usually there is a wagering requirement tied to the bonus money. This means that you need to play the bonus money a certain number of times before you can withdraw it. Getting a free bonus is a great way to get introduced to a game at a casino but it is not free money and shouldn't be considered so. For example: I am given a 20-euro Casino bonus with a 10x wagering requirement. This means I need to have bet a total of 200 euro on eligible games, before I can withdraw any winnings gained.
A free spin allows you to play one round on a video slot without using your own money. An online casino will sometimes give a number of these as part of their welcome bonus, or as a promotional prize for current players. You can also win free spins in some games, which adds to the gaming experience.
No, Live Casino also must undergo constant certification by independent auditors to make sure it's completely fair. Live Casino studios emulate in real time what happens at a land-based casino.
The internet is littered with theories about how one goes about "beating the system" when it come to online slots. The truth is, slots are completely random, and in one of the most regulated industries in the world, great lengths are taken to safeguard this randomness and to make sure that players get an experience that is fun, safe and secure.
All NetEnt games go through certification by independent certification authorities, which require true randomness.
Before games get released, the certification team checks different aspects of the game (Math, functionality, text and game rules) to ensure player fairness. And by 'certification' we mean a large number of big, government-approved, stand-alone, international companies with the job of going through NetEnt's products (slots) to ensure player fairness. This is something NetEnt takes very seriously. Different authorities and governments all have different standards and ideas on how to protect their players. We make one game, one product, with a single math model, that, after rigorous testing, is released into all the different regulated markets.
Gaming companies need licenses to operate in different countries. If NetEnt games are not available in your country, it's likely that we have not yet gained the license required to operate there. Getting a license takes a lot of work. At NetEnt our strategy is to enter as many regulated markets as possible, so if you don't see NetEnt games in your country – keep checking – it could be there soon!
NetEnt is not required to have a licence to offer games in all markets as NetEnt is a business to business provider of game software. In most countries it is the "business-to-consumer" company (also known as the operator) that runs the online casino who is required to hold a licence. NetEnt doesn't permit our customers to offer our games in markets where an operator doesn't hold an applicable licence. This can sometimes be a local licence particular to the country in question or an "international" licence from a jurisdiction such as Malta, Gibraltar, Isle of Man, etc. which allows an operator to offer gaming remotely to players located outside the country in question. We would therefore recommend that you refer this question to the operator of the website in question and ask them what licences they hold and what entitles them to offer games to the country in question.
As with all successful companies, dishonest people are often trying to create counterfeit copies of NetEnt games in order to benefit unlawfully from the reputation of our games. The quality of some of the counterfeit versions of our games can sometimes be very convincing and will often lead the user to believe that they are playing the real thing. However, as with all counterfeits, there is always a catch and it is likely that these versions of the games will not provide the same probability of winning and/or return to player as a genuine version of the game would. In some cases, the companies offering such games might not even pay out winnings at all. Unfortunately, due to the lengths that game cloners will go to in order to create convincing copies of the games, there is no easy way of identifying whether a game is real or not. However, we can confirm that NetEnt only offers our games to reputable companies that hold gaming licences in recognised gaming jurisdictions. If you are thinking of trusting your money to (i) a site that you have never heard of before; (ii) that doesn't display the licence of their regulator on their website; or (iii) that doesn't offer easily accessible contact details for customer support on their website, then the likelihood is that the operator is not trustworthy and therefore it is also likely that the versions of NetEnt games that they are offering are not genuine. If in doubt, feel free to check the website of the regulator that is listed on the casino (or even contact the regulator directly) to see if the operator is confirmed as a licensed site with that regulator. If they are a genuinely licensed site in a recognised jurisdiction, then the game versions offered will also be genuine. If the answer to these questions is "no" then we would strongly recommend that you don't trust your money to them.
All license credentials are always public information and will be displayed on the casino website. Playing in regulated markets such as the UK, Sweden, etc. means that those gambling authorities also regulate the website content, which is an extra layer of safety to the player. If you are playing in a country which is not regulated, look for a stamp of approval from the Malta Gaming Authority
(MGA)
which regulates .com casinos. A reputable casino will also always advocate that you play in a casino that is publicly audited by a third outside party such as
eCOGRA
who internationally regulate casinos and make sure they are fair to the player.
As a game supplier, NetEnt is a business-to-business company and not a business-to-customer company. This means that our contact is ultimately with our customers (the operators/casinos); they are the ones who have the responsibility to be in contact with the players. This also means that they have a dedicated customer support team which is trained and informed and able to provide information to players on a wide range of issues. As a B2B company, we don't have a player-facing customer service team and we therefore encourage people who use our products to reach out to their casinos for all inquiries about our games – they have all the information needed to answer your questions about NetEnt products.
At Netent, we want people to play for the right reason: to have fun. It's important to realize that while for most of the population gaming is a fun activity, for others it can become problematic. At NetEnt we want to be transparent about this and we want to make sure that players realize that when it's no longer fun, it's time to walk away.
The golden rule of gambling is simple: only ever gamble with money you can afford to lose. Gambling is entertainment, and over time there is no way to "beat the system", so like any entertainment you need to budget for your fun, set limits, stick to them and never play money you can't afford to lose.
The first thing you should do when you join an online casino is play some practice games for free and learn how games work. Also read the player FAQs (if they have one) to learn all the different terms and intricacies of online gaming. Before you start playing for real money, make a budget for your gaming that you will stick to! Always set limits so that you don't lose more than you can afford.
Absolutely Not! You should always follow the golden rule of gambling: only gamble with money you can afford to lose. No matter what anyone says, there is no way to "beat the system" when it comes to online slots; it is a game of chance and not an income generator.
In an online slot game, different combinations can yield different amounts of money. It is therefore possible that sometimes, if you place a bet, you can win an amount which is less than what you bet. The machine will still acknowledge the win, but it's important for you as the player to realize how it is affecting your wallet despite how much you may enjoy the bells and whistles of the win.
The moment you begin to feel like you are playing too much, you should immediately take a break. You can take an online test to see if your gambling is becoming problematic here. If it is, then there are several options; you can reach out to an organization that can support you in controlling your gambling. Organizations can be
found here
depending on which country you live in. If you feel you really can't control your gambling, then contact your casino immediately and ask them to self-exclude you. This is the best way to ensure that you won't be able to play. You can also install software on your computer that will block all gambling programs and ads. In some countries, such as the UK and Sweden, there are national self-exclusion programs that allow you to exclude yourself from all casinos at once with the click of a button.